We found some great news! More and more stores are taking part in Green Friday this year. Some of these stores are pledging to donate a portion or even all of their profits taken during Green Friday weekend!
One of the stores is Ella's Kitchen, a baby food brand, which will donate all of its online profits taken between the 27-30th of November to Trees for life. The charity is focused on reviving and conserving the Scottish Highlands. They already have 44 tree planting sites and planted almost two million trees! This is awesome!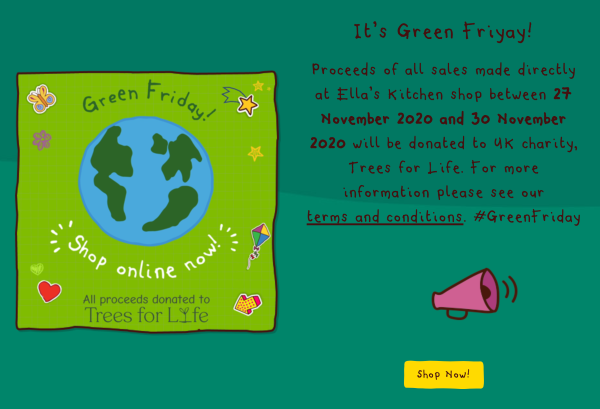 Ella's Kitchen's have made a commitment which they call their BIG Pledge to Little People and their participation in 'Green Friday' aligns well with this. Their pledge is:
To be Net Zero by 2030
To reduce emissions by setting externally approved Science Based Targets for direct and indirect emissions across Scopes 1, 2 and 3 as defined by the GHG Protocol
Helping to restore, rewild and protect the eco-systems on which we all rely, by working with UK and International conservation partners.
Here is a quote from Chris Jenkins at Ella's Kitchen:
"At Ella's Kitchen we are dedicated to protecting our planet to make sure that all little ones have the future they deserve. So we are proud to be partnered with Trees for Life, who do amazing work to not just plant trees, but also work to protect, restore and provide space for wildlife to thrive. Of course, businesses are facing serious challenges at this time, but we can't afford to forget our determination to address climate change – our children certainly won't and are depending on us to take action, so we'd love to see more businesses working to turn Black Friday Green."
So if you are wondering how to take part in Green Friday while preparing food for your kids, go to Ella's Kitchen!