It's great to see that Inchcape Audi have embraced the idea of Green Friday, and have teamed up with Macmillan Cancer Support charity for an event running from Friday 24th until Sunday 26th November.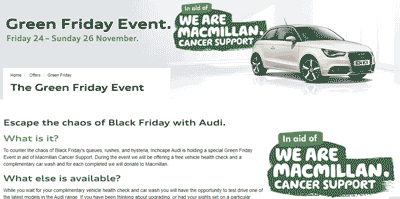 They will be having free vehicle health checks and also free car washes, and will donate to the charity for each one completed.
Hopefully as the Green Friday movement gets more and more popular we will see more companies starting to rebel against black friday. Of course Inchcape Audi also will give a chance for you to test drive a car while you're there if you want, and the idea is to promote their business. But we definitely approve of including free gifts and support of charities like this as it is aligned with the green friday movement!
For more information take a look at their page about it here