Ready to step-up your outdoor experience? Tentsile, the world's leading tree tent company has joined Green Friday.
If you haven't yet seen their tents, you have to check them out! So incredibly cool!
This year, Tentsile is going full-on Green, with 100 trees planted for each Tree Tent and Hammock sold. These trees are being planted in areas on the fringes of devasted rainforests in Madagascar and also as part of the Great Green Wall, along the Southern Border of the Sahara Desert, to stop its spread.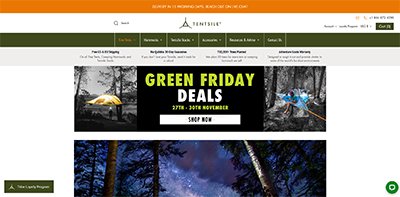 Another awesome fact. They are also actively involved in anti-deforestation projects in Borneo and the Amazon, and we are trying to raise awareness of this problem globally. We invite all those that hear about Tentsile to join the fight against the deforestation by buying a Tentsile Tree Tent or Giant Hammock! Afterall, if we are all hanging out in trees, they can chop them down!
Learn more about Tentsile here.